Local and regional musical acts of all genres, followed by national headlining acts.
Mainstage: the largest free music concert in the region, hosting three nights of world-class musical acts and local opening acts.
District Stages: three different stages showcasing musical and performing art from the region's most talented entertainers.
Interactive Drum Circles: walk-up drum circles for guests to join in and enjoy the collective rhythm.
Along with featuring music throughout the entire weekend, CelebrateErie showcases five event districts, each representing a different part of what makes Erie unique.
Schedules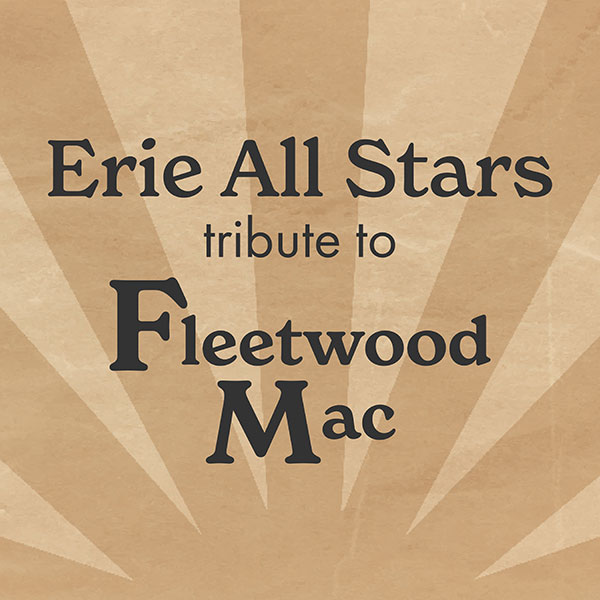 Friday, August 18 @ 8:00 p.m.
Erie All Stars tribute to Fleetwood Mac
The Erie All Stars will once again bring their musical and performance talents to CelebrateErie. After presenting an unforgettable homage to Queen in 2019 on the CelebrateErie mainstage, this year, the All Stars will honor the musical legacy of Fleetwood Mac.
Fleetwood Mac, the iconic British-American rock band that captivated audiences worldwide with their unique blend of rock, pop, and blues, formed in London in 1967. The band experienced various lineup changes but achieved unparalleled success during the mid-1970s through the late 1980s. The group's core members included drummer Mick Fleetwood, bassist John McVie, and the talented songwriting duo, Lindsey Buckingham and Stevie Nicks.
Fleetwood Mac's discography includes hit songs like "Go Your Own Way," "Rhiannon," and "Don't Stop." Their landmark 1977 album "Rumours" remains one of the best-selling albums of all time. The Erie All Stars will bring that legacy to life, presenting the show and the sounds of the iconic band to CelebrateErie's concertgoers.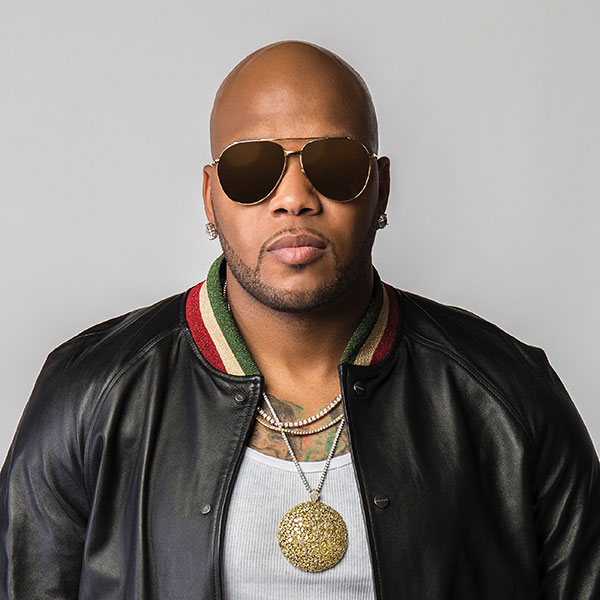 Saturday, August 19 @ 8:00 p.m.
Flo Rida
Flo Rida was raised by a single mother in Miami's rough neighborhood of Carol City, Florida. Music helped Flo Rida stay on the straight path. His father was a talented musician who encouraged his son to express himself through music. Growing up, he was exposed to all kinds of music, thanks in large part to his sisters, some of whom formed a local gospel group. When he was a teenager, he found success rapping in local groups, including 2 Live Crew.
His debut album in 2008, "Mail on Sunday," featured "Low," with T-Pain, which reached No. 1 on the Billboard Hot 100 chart. Two additional singles from this album reached the top 20 on the Billboard Hot 100 chart. His second album featured "Sugar," which reached #8 on the Hot 100 chart. And "Good Feeling" from his fourth album "Wild Ones," which reached #3. Flo Rida's album "My House" includes "GDFR," which was featured in the movie "Fast & Furious 7."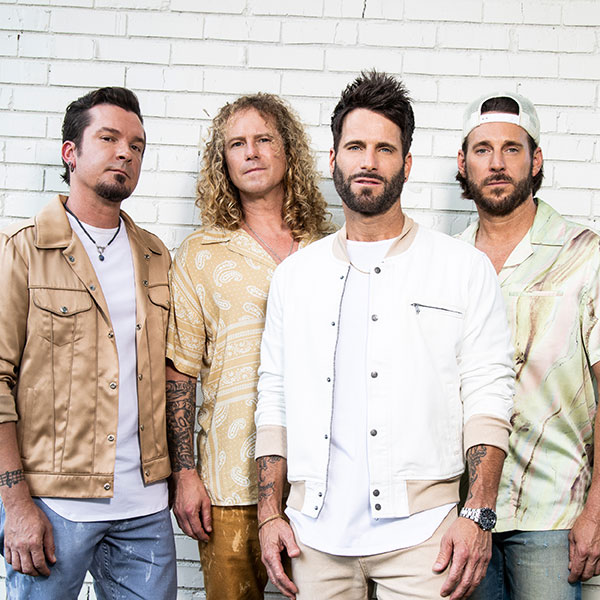 Sunday, August 20 @ 8:00 p.m.
Parmalee
The Academy of Country Music's "New Vocal Duo/Group of the Year" nominee is one of Country music's most successful acts: the Platinum-selling band of brothers is one of only four groups since 2001 to earn three consecutive Top 10 singles from a debut Country album. Parmalee has supported Brad Paisley and Jake Owen on national tours, in addition to their own tours.
Comprised of brothers Matt and Scott Thomas, cousin Barry Knox, and life-long friend Josh McSwain, the North Carolina natives had their first number one country hit with "Carolina." The band recently returned to the top of the charts with their platinum-certified No. 1 single – "Just the Way," featuring Blanco Brown, and then with their follow-up single, "Take My Name" from their new album "For You," which became a multi-week No. 1 Country radio hit. Their latest single "Girl In Mine," is out now.
mainstage schedule

Friday, August 18
| | |
| --- | --- |
| 5:30 PM | Mambo |
| 6:30 PM | Stephen Trohoske's Dance JoneZz |
| 8 PM | Erie All Stars tribute to Fleetwood Mac |
Saturday, August 19
| | |
| --- | --- |
| 5:30 PM | Life Thru Music |
| 6:30 PM | The LEC |
| 8 PM | Flo Rida |
Sunday, August 20
| | |
| --- | --- |
| 5:30 PM | Blue Sky a tribute to the Allman Brothers |
| 6:30 PM | Refuge |
| 8:00 PM | Parmalee |

Friday, August 18
| | |
| --- | --- |
| 11:00 AM | Ladders |
| 12:30 PM | Matthew Crays & Co. |
| 2:00 PM | Halfpace |
| 3:30 PM | Daytona Beach 2000 |
| 5:00 PM | Odd Atrocity |
| 6:30 PM | The Breeze Band |
Saturday, August 19
| | |
| --- | --- |
| 11:00 AM | Lights + Letters |
| 12:30 PM | Spades |
| 2:00 PM | West Indian Revelation |
| 3:30 PM | This American Song |
| 5:00 PM | Phunkademic |
| 6:30 PM | Erie's Best Kept Secret |
Sunday, August 20
| | |
| --- | --- |
| 11:00 AM | Jeff Fetterman Band |
| 12:30 PM | The Collective |
| 2:00 PM | Elle Taylor Band |
| 3:30 PM | Optimistic Apocalypse |
| 5:00 PM | Barry King Blues Band |
| 6:30 PM | Hellz Bellz |
Friday, August 18
| | |
| --- | --- |
| 12:00 PM | Lunchtime Yoga by Yoga With Abi |
| 1:30 PM | Berlin Music Studio |
| 2:45 PM | National Marionette Theater |
| 4:00 PM | Erie Asian Pacific Amerian Alliance (#171) |
| 5:15 PM | In Purpose Studios |
| 6:30 PM | Broke Boland |
Saturday, August 19
| | |
| --- | --- |
| 12:00 PM | Kids Yoga by Yoga With Abi |
| 12:45 PM | Footlights Theatre Performing Arts Center |
| 1:30 PM | Park's Taekwondo (#118) |
| 2:45 PM | Erie Dance Theater Team |
| 4:00 PM | Ansumana Komba Gbembo, African fashion show |
| 5:00 PM | David Kambowa & the Altar of Worship (African gospel) |
| 6:30 PM | The Bandits |
Sunday, August 20
| | |
| --- | --- |
| 12:00 PM | "Storytime with Bunnies" by E.A.R.S. |
| 12:45 PM | Aine Celtic Academy |
| 1:30 PM | Park's Taekwondo |
| 2:45 PM | Sovereign Ballet |
| 4:00 PM | The Erie Heights Brass Ensemble |
| 5:15 PM | Mustafa Albalkhi and the Trio Watan (Arab Music trio) |
| 6:30 PM | Victoria Angelo with an Acholi African Dance Workshop |
Friday, August 18
| | |
| --- | --- |
| 12:00 PM | onmymind |
| 12:45 PM | PianoPunk!! |
| 1:30 PM | Claire Stuczynski |
| 2:45 PM | Jonathan Nolan |
| 4:00 PM | Jess Royer |
| 5:15 PM | Logan B & Dirty Leaf |
| 6:30 PM | RiffRiders Lite |
Saturday, August 19
| | |
| --- | --- |
| 12:00 PM | Bummer Country |
| 12:45 PM | Ben Robson |
| 1:30 PM | Tommy Link |
| 2:45 PM | Da BBW x Believe In The Dream x Thusa Music |
| 4:00 PM | MARK |
| 5:15 PM | Slim and Red |
| 6:30 PM | Paper Matches |
Sunday, August 20
| | |
| --- | --- |
| 12:00 PM | ABIGAIL. |
| 12:45 PM | Reflect & Reform |
| 1:30 PM | Alias Kate |
| 2:45 PM | Zack Orr |
| 4:00 PM | Monica Lewis Acoustics |
| 5:15 PM | Buttermilk Falls Gang |
| 6:30 PM | Northbound Soul |